Description
Complete feed for adult cats (thin slices in jelly).
The benefits:
Proven results
Over 90% of cats achieved healthier weight in 8 weeks* *When following ROYAL CANIN® Light Weight Care nutritional program (combining dry and wet formulas). Royal Canin internal study.
Weight management program
1. Providing complete and balanced nutrition across both our wet and dry formulas, enabling you to choose the perfect combination for your cat. 2. Get your cat active with in-home games and feeding puzzles. 3. Avoid human food and fatty snacks. 4. If you have any questions or concerns about your cat's health, please contact your veterinarian.
Health Benefits
Formulated with a precise balance of vitaminsand minerals to help maintain optimal healthand wellness. Adapted protein content to help maintain musclemass for healthy weight maintenance. Enriched withL-carnitine, involved in a healthy fat metabolism. Hunger-satisfying nutrition with a rich taste,formulated to help keep your cat fit.
Product description:
Maintaining your cat's ideal weight is vital for its general health. However, sometimes this can be is easier said than done, particularly when it has a tendency to gain weight but it's still hungry only at meal times – and isn't overeating. ROYAL CANIN® Ultra Light in Jelly helps reduce the calorie intake of cats by as much as 19% to help limit weight gain and maintain a healthy weight bracket. The nutrients are also enriched with L-Carnitine to help support and stimulate a healthy and fast-acting metabolism. When consuming a type of food to maintain a healthy weight, your cat's diet will play a big part in the maintenance of muscle mass and keeping fat levels at an optimum level. That's why ROYAL CANIN® Ultra Light in Jelly contains a high protein content (10%) to contribute to muscle mass, without compromising the calorie reduction needed to limit weight gain. Additionally, the nutrients in this product support a healthy urinary system for healthy bladder function maintenance. To cater to each cat's individual preferences, ROYAL CANIN® Ultra Light is also available as dry food, with crunchy and tasty kibble. If you're considering mixed feeding, simply follow our feeding guidelines to ensure your cat gets an accurate amount of both wet and dry food for optimal benefit.
Nutritional Information:
Product additives : Vitamin D3: 83 IU, Iron (3b103): 5 mg, Iodine (3b201, 3b202): 0.3 mg, Copper (3b405, 3b406): 2.5 mg, Manganese (3b502, 3b503, 3b504): 1.5 mg, Zinc (3b603, 3b605, 3b606): 16 mg.
Guaranteed Analysis : Crude ash: 1.4%. Crude fibre: 1.2%. Crude oil fats: 2%. Moisture: 82.5%. Protein: 11%.
Product composition : Meat and animal derivatives, vegetable protein extracts, derivatives of vegetable origin, cereals, minerals, various sugars.
Feeding Guide: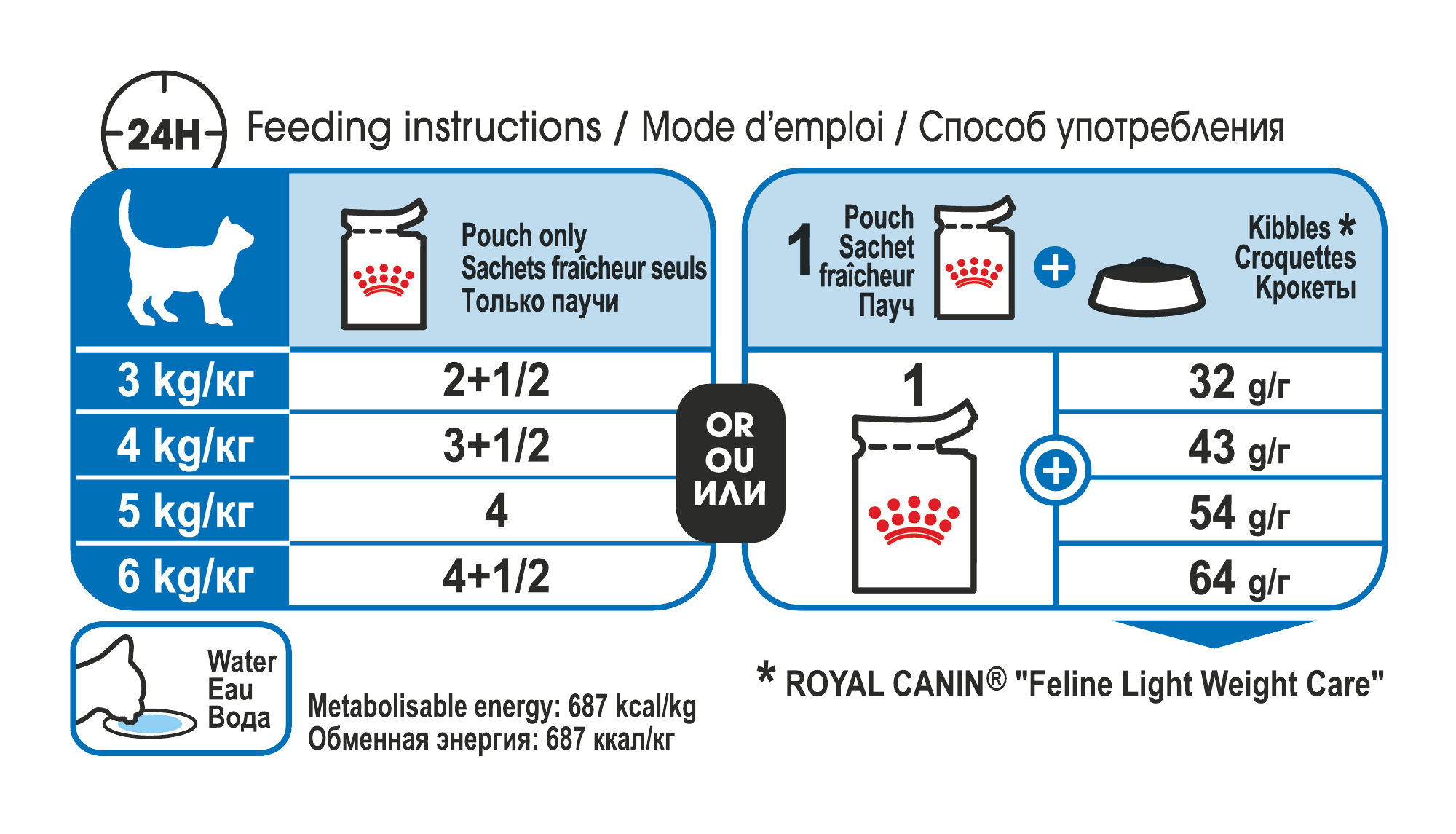 Benefits:
PECIAL BLEND OF FIBRES

Weight Care is a precisely balanced nutritional formula which helps maintain a healthy body condition.

HIGH PROTEIN

Special blend of fibres including psyllium helps to increase the volume of food in the stomach, thus helping to naturally reduce spontaneous eating.

LOW FAT

High protein content to help maintain muscle mass.

ENRICHED WITH L-CARINTINE

Low fat content to help limit weight gain.